CUSTOM PHOTO FLIGHTS
Take to the skies and get some amazing pictures of Iceland from above.
GET A NEW PERSPECTIVE
Iceland, for most of our visitors, is an extraordinary once in a lifetime destination, full of natural wonders. From active volcanos, sprawling glaciers, glacier riverbeds and, moon-like sceneries Iceland will not disappoint. Traveling through Iceland by ground, most photographers barely scratch the surface. Flying over Iceland, on the other hand, gives you a completely different perspective and you will get the chance to photograph places you only dreamt of.
Contact us and get a quote.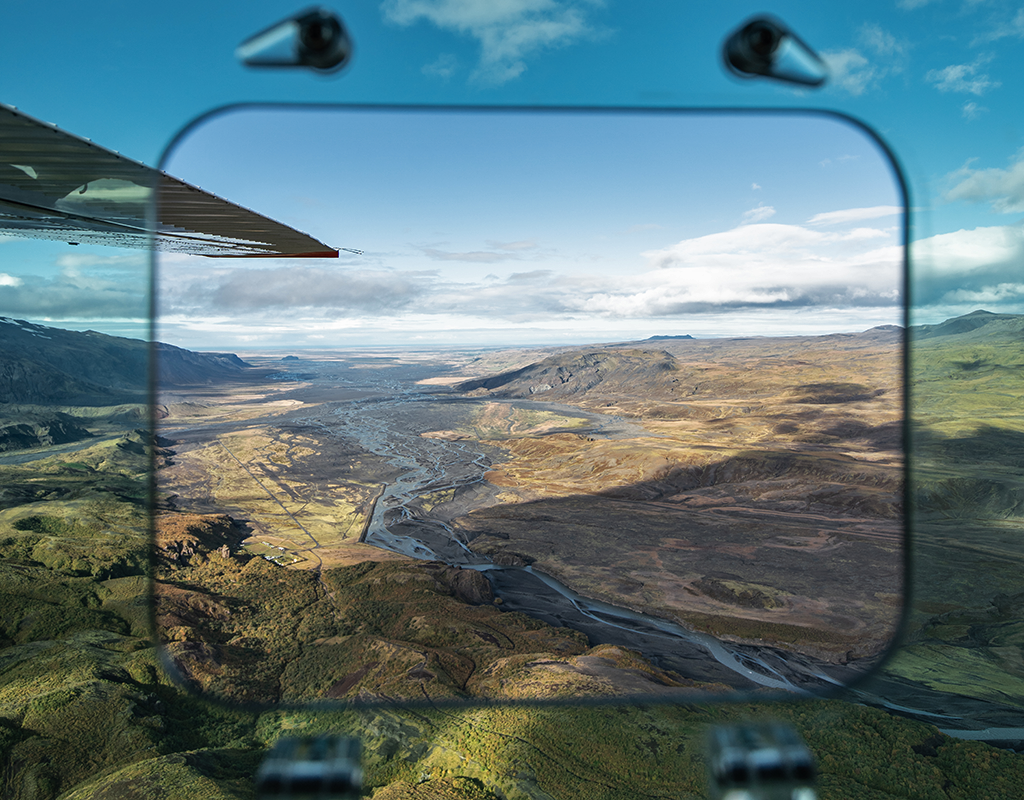 Just a note to say sincere thanks to Atlantsflug as they provided outstanding service for my aerial photography above south and central Iceland. I flew with their high wing airplane as well with their helicopter and brought back excellent aerial shots of my planned destinations, not least thanks to expert flying skills of the pilots. And not to forget, the pilots also showed me some unique locations not far away from our route and by that, I could shoot extra eye-catchers there. No doubt, for photo flights above Iceland Atlantsflug is THE company to fly with!!"

"Bernhard Edmaier - 2019
Tips and Tricks
Some usefull tips and tricks for taking aerial photographs.
Before the flight
Do your research and decide what equipment you are going to be using before the flight, you will not have much time to change equipments during the flight.

The most common lens to bring on aerial photo flights range from range from 24-105 mm or 70-300 mm.

Wear wam layered clothing, since you will be flying with an open window it might get a bit cold in the aicraft. But make sure they are not to bulky, so you can move around freely.

Take your time to explaine to our staff what you want to shoot, out pilots are experts in finding great locations to picture but we are happy to listen to your suggestions.

Best lighting for aerial photography is early morning or late afternoon. However, the excact timing changes with every season, so make sure to do your research on what kind og lighting you want for your photos.
During the flight
The pilots job is to keep you safe, so please follow his instructions

Make sure you seccure all your gear and yourself before opening the window, otherwise some of your equipment might fall out.

While in the air, make sure no part of your camera, not even the strap, is sticking out of the window. It might cause damage to your equipment or the airplane.

If you are prone to motion sickness it might be a good idea to take some preventative measures, like taking motion sickness medicine before the flight or bring along some ginger to chew on. Also keep in mind that constantly looking through the viewfinder can add to your motion sickness so make sure you take some time to look up from the camera and enjoy the ride. All our aicraft have barf-bags if needed and please inform your pilot if you a feeling sick and he will do his best to make your experience go better.
After the flight
We love seeing pictures from our customers and often share them on our social media. So please tag us in your photos on social media or send us via email.
Testimonials
Today might have just won the title of 'best day of my life'…..I am thrilled to have had the opportunity to fly with Atlantsflug / Flightseeing on their 'Landmannalaugar and surroundings' tour…. One thing I loved about the Cessna that we flew in was the window opened, so I was able to shoot uninterrupted by glass! … The views wrapped around the plane from every angle and it is hard to describe how freeing and relaxing the whole experience felt! Our pilots were wonderful, explaining what we could see and sharing stories of the geology and history, it was fascinating!

Thank you, thank you thank you!!! And thank you a million times over!!

"Rebecca Douglas"
I did a flight with Atlantsflug in July when I was leading a photography workshop in Iceland and had a fantastic experience. From the initial email communication they were extremely helpful in organising a flight above the river braids and the Highlands, and on the day the pilot we had was extremely knowledgable and took care to slowly zig zag along the route to ensure that people on both sides of the plane got good views and didn't miss anything. The flight itself was fantastic with absolutely incredible views over some of the most stunning landscape in Iceland. … I'll be back next year and will certainly do another flight with Atlantsflug.

"Andy Mumford - 2018"
I booked with Atlantsflug after hearing good things from someone else. I lead a photography group of 3 backpacking through the Icelandic Highlands with the flight being a treat to finish! We had the flight rescheduled from Friday to Saturday for the weather and found a much higher cloud level on the day that we flew.

We took off from Thorsmork, flew up to Lanmannalaugar, across to Langisjor and back down to Thorsmork. The views were outstanding and the pilot was obviously very knowledgeable of the best locations to make good images. We were also able to ask him to roll left/right to get a particular shot. Everyone had a fantastic time. This is definitely a company I would use again.

"Alex"
Our Fleet
Atlantsflug has a versatile fleet of aircrafts that can be used on all kinds of private charter flights. Our pilots are highly experienced in their field and we would be happy to help you plan your perfect trip.
MEETING POINT
Our Skaftafell meeting point is at Skaftafell Terminal, located at our private airport right next to ring-road 1. The best way to get there is to drive on road number 1 and turn off the road to the opposite side of Skaftafell National Park.
GPS co-ordinates: 64.003111, -16.941626
Link to Skaftafell Terminal on google maps: https://g.page/Atlantsflug?share
Driving time to Skaftafell from Reykjavík is around 4 hours and 30 minutes. If you arrive early, you can visit Skaftafell Terminal which offers free parking, light refreshment and has restrooms.
Our Reykjavík meeting point is at REYKJAVIK FBO, located only a couple of minutes away from downtown Reykjavik.
Link to REYKJAVIK FBO on google maps: https://goo.gl/maps/1E5tsZy3aEg9PFkV7
For some private tours, we depart from various locations around Iceland. If you are departing from any other location than Skaftafell Terminal or Reykjavik FBO, please check your email for more detailed information about that.
TOURS YOU MIGHT ALSO LIKE
Not ready to take a custom photo flight, you can also snap some great photos from our standard tours.
Reach for the sky and treat yourself to all the best Iceland has to offer, on our grand tour!
This is one of our most photogenic tours. We fly over the coastline and Skeiðarársandur, a vast plain of black sand and ash covered with numerous small rivulets.
The Vatnajökull National Park is one of Iceland's natural treasures and a registered UNESCO World Heritage Site. One of its greatest wonders is the awe-inspiring Laki Crater Chain. Don't take our word for it. Let us show you.